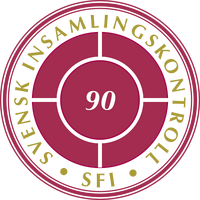 The old logo.
Svensk insamlingskontroll
, which translates roughly as "Swedish Collection Control", is a Swedish foundation, responsible for handing out and monitoring transaction accounts for charitable organisations.
The organisation was known as
Stiftelsen för Insamlingskontroll
("The Foundation for Collection Control") until about 2009, when it started using the current name. The old abbreviation, SFI, remained in the logo then for some reason.
On February 14, 2011, the organisation presented a new logo. All accounts issued by the organisation have a number starting with 90. The new logo focuses on that by prominently featuring the term
90-konto
("90 account"). It seems like the old abbreaviation will be phased out.
The new visual identity was created by the PR bureau
Springtime
in cooperation with the design agency
Jacobson Vellinga Design
Press release
(archive)
Dagens Media